Posts Tagged 'Printable'
June 12th, 2012
Hi there, Shanna here once again with another fun Summer Activity for the kids. Do you often get tired of hearing your kids say "Mom, I'm bored!" all throughout the summer? Well here is a fun solution for those bored kiddos. Back in early May I was talking with a few of my friends from my MOPS (Mother's of Preschoolers) group and we were talking about how we planned to keep our kids busy during the summer months. One of my friends said last year she'd made a BINGO chart of her kids with activities listed on it for them to do and check off as they went, in addition to having activities to do they learned stradegy on how to get a BINGO  so they could in turn earn tickets for incentives she made up for them. Well I thought this was an awesome idea and just knew my almost 7 year old would love this to keep her busy and off all the electronics all day.  Here are the rules I made up for our BORED Bingo and the incentives for earning bingo tickets.
Here is my daughter, Allison, marking off her first BINGO square on the first day of summer break!
A close up of my BORED Bingo card framed in a square 8×8 frame (you could do any size). I framed my card so we could easily use a dry erase marker on the glass to mark off the squares as she completes them. Then after we're done with the week we can erase all the marks and insert a new card for the week and reuse this card if we want to again. (TIP: If you don't want to frame it you could also laminate or put it inside a clear pocket protector and mark on it using a dry erase marker.)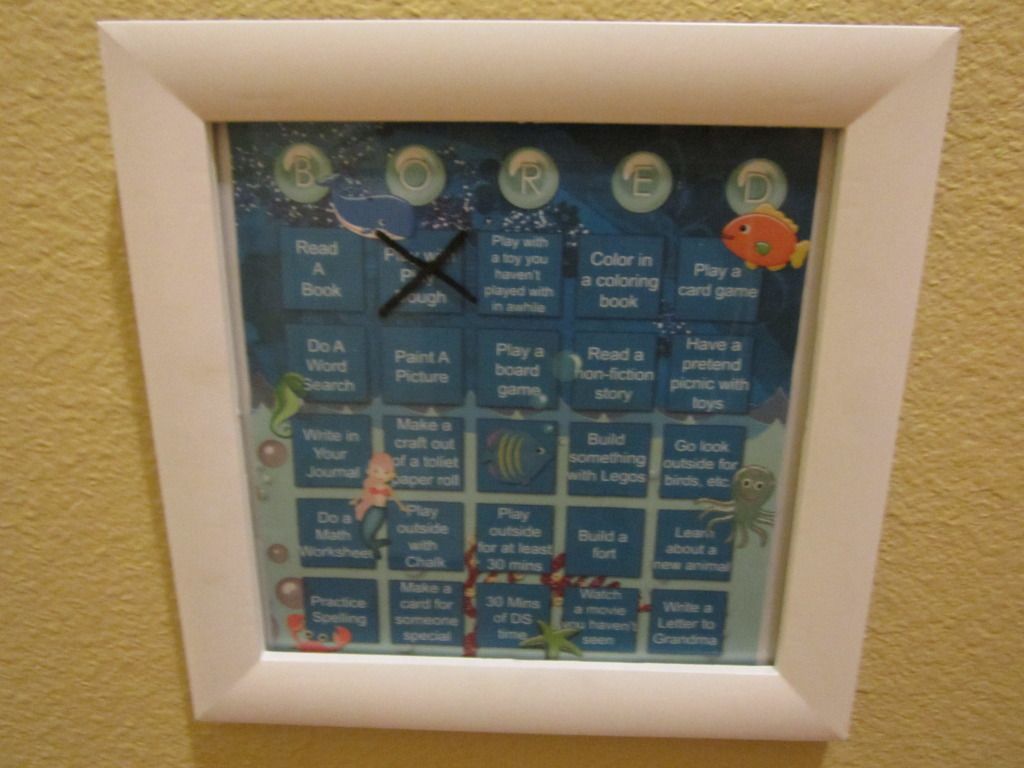 And of course I wouldn't show you this without including a FREEBIE for you to printout and use if you'd like. In this freebie package you'll get 3 bingo cards I made for my daughter (the activities may not work for your family but they may so I included them), 1 blank bingo card you can use to write your own activities on, and a sheet of 12 Bingo tickets to print out.
All of these freebies I made using Sugar Moon's "Sea Jewels " kit
Download the freebie by clicking the image below: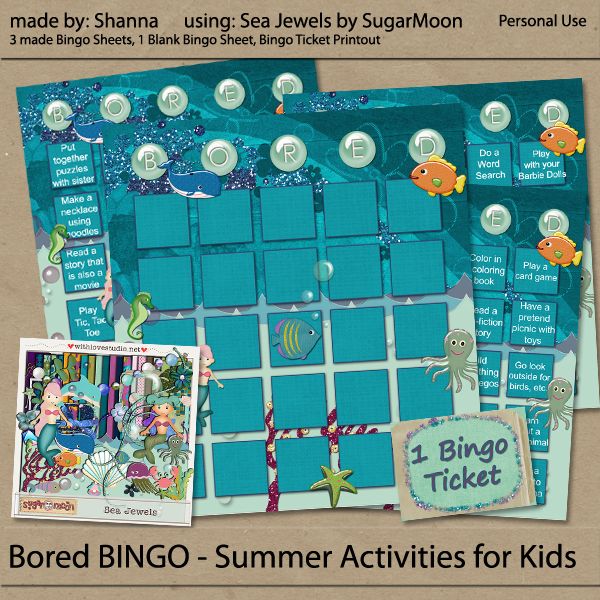 Tags: Bingo, Bored Bingo, freebie, Printable, sea jewels, sugar moon